Your Update for 5-29-20
*This information is changing quickly, so be sure to check for any updated information.
We will be adding our daily updates to our website a week after publication. If you would like to receive RPG's update as it comes out, please sign up here: eepurl.com/gKVAoP
Press Conference with Governor Wolf and Secretary Levine:
At 2:00 p.m. on May 29, Governor Wolf and Secretary Levine held a press conference to provide an update on COVID-19 and efforts to mitigate the virus in Pennsylvania as well, the Governor will announce additional counties moving to a different phase.
Governor Wolf announced that on June 5, an additional 16 counties will be moving to Phase Green. Those counties are: Allegheny, Armstrong, Bedford, Blair, Butler, Cambria, Clinton, Fayette, Fulton, Greene, Indiana, Lycoming, Mercer, Somerset, Washington and Westmoreland.
As well, Governor Wolf confirmed his comments from the prior week, noting that all red counties will move to Phase Yellow on June 5.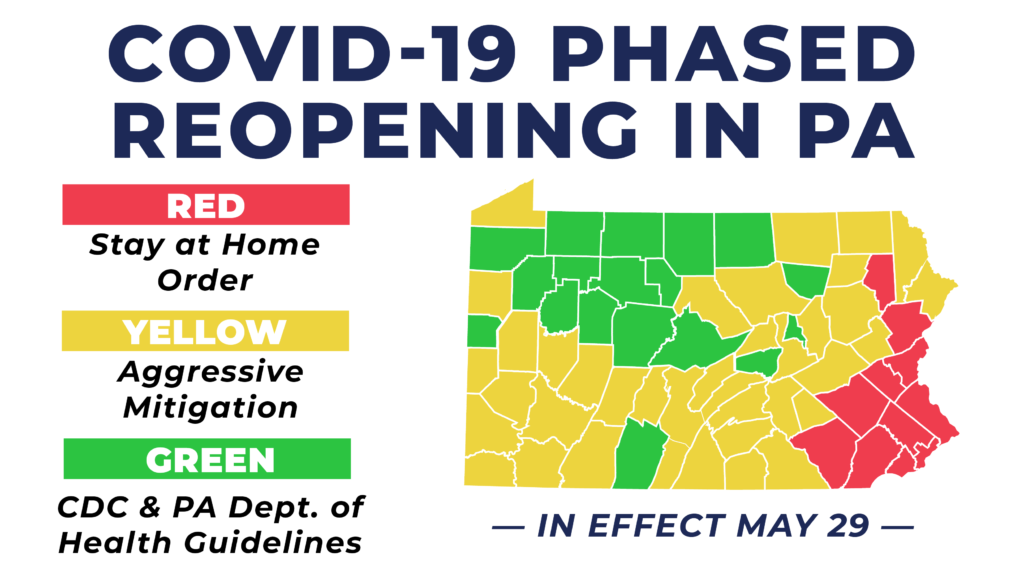 >> Read about Governor Wolf signing the 5 month interim budget
Secretary Levine gave an update on the number of cases of COVID-19 in the Commonwealth (+70,735), an increase of 693 cases. COVID-19 is in all of the Commonwealth's counties. There were 91 new deaths associated with COVID-19, bringing the total deaths in Pennsylvania to 5,464. There were 604 positive serology tests, which are counted as probable cases of COVID-19, and not confirmed cases…
There are 15,335 residential cases and 2,565 employee cases in 603 long-term care facilities in 44 counties, which includes nursing facilities and personal care facilities. There have been 3,517 reported deaths in long term care facilities due to COVID-19. Deaths in nursing and personal care facilities account for ~64% of the total deaths in Pennsylvania.
64% of individuals who have contracted COVID-19 in Pennsylvania have recovered.
According to the Hospital Preparedness Dashboard, 45% of hospital beds, 38% of ICU beds, and ~77% of ventilators in Pennsylvania Hospitals are still available. A total of 5,280 COVID-19 cases are in healthcare workers. County-specific information and a statewide map are available here. You can view the data on infections by COVID-19 in Pennsylvania here.
You can watch the daily press conference here.

An Update from DC:

Updated House Schedule

House Majority Leader Hoyer released an updated floor schedule for the summer.
Throughout June, legislative work will be focused in Committees Hoyer says in statement
In late June and in July, Democrats aim to consider legislation including the annual defense policy bill, water resources bill, an infrastructure package and appropriations measures
No changes would be made to August recess if House completes work on "must-pass" items by end of July
Next scheduled vote in House is June 30
Here is a Link to the calendar.
Business Community:
Governor Wolf's Plan to Reopen Pennsylvania:
On April 22, Governor Wolf announced his plan to reopen Pennsylvania, focusing on a regional decision making approach. Along with the previous standards the Governor announced last week, he highlighted that the data-driven decision making process will be done in consultation with Carnegie Mellon University.
You can review Governor Wolf's Plan for Pennsylvania here.
The three color phases determine when regions are ready to begin easing restrictions on businesses, stay-at-home orders, large gatherings, child care and more. The three phases are red, yellow and green, with the entire state currently in the red phase. Movement between phases will be based on the population incidence rate above.
Red Phase:
The red phase singularly purpose is to minimize the spread of COVID-19 through strict social distancing, non-life sustaining business and school closures. There are currently 10 counties in Phase Red. The rest of the Phase Red counties will move to Phase Yellow on June 5.
Life Sustaining Businesses Only
Congregate Care and Prison Restrictions in Place
Schools (for in-person instruction) and Most Child Care Facilities Closed
Yellow Phase:
The stated purpose of the yellow phase is begin to power back up the economy, while maintaining social distancing while easing restrictions on certain businesses and travel. However, the Department of Health will maintain strict monitoring over public health data to contain COVID-19. Guidance for businesses in Counties in the Yellow Phase. There are currently 40 counties in Phase Yellow, however 8 additional counties moved to Phase Yellow, while 17 counties moved to Phase Green on May 29
Telework Must Continue Where Feasible
Businesses with In-Person Operations Must Follow Business and Building Safety Orders
Child Care Open with Worker and Building Safety Orders
Stay-at-Home Restrictions Lifted in Favor of Aggressive Mitigation
Large Gatherings Prohibited
In-Person Retail Allowable, Curbside and Delivery Preferable
Indoor Recreation, Health and Wellness Facilities (such as gyms, spas), and all Entertainment (such as casinos, theaters) Remain Closed
Restaurants and Bars Limited to Carry-Out and Delivery Only
Green Phase
The green phase should facilitate a return to a "new normal", by easing most restrictions on stay-at-home orders and business closures. Strict adherence to CDC and Health department guidelines are required, and similar to the yellow phase, monitoring of public health data will continue. There are currently 0 counties in Phase Green. There are currently 17 counties in Phase Green. An additional 16 counties will move to Phase Green on June 5.
All Businesses Must Follow CDC and PA Department of Health Guidelines
Aggressive Mitigation Orders Lifted
All Individuals Must Follow CDC and PA Department of Health Guidelines
The standards previously highlighted by Governor Wolf:
Our approach will be data driven and reliant upon quantifiable criteria to drive a targeted, evidence-based, regional approach to reopenings in Pennsylvania.
We will put forth guidance and recommendations for employers, individuals, and health care facilities for assured accountability as we reopen.
Reopening necessitates that adequate personal protective equipment and diagnostic testing are available.
Reopening requires a monitoring and surveillance program that allows the commonwealth to be deploy swift actions for containment or mitigation.
Protections for vulnerable populations must remain steadfast throughout the reopening process, such as limitations on visitors to congregate care facilities and prisons.
Limitations on large gatherings unrelated to occupations should remain in place for the duration of the reopening process.
Industry Guidance:
Critical Needs Portals:
The application for the COVID-19 Working Capital Access program is closed. The program reportedly received roughly 900 applications requesting roughly $75 million. The program's original appropriation was $60 million. A link to the DCED page can be found here. The first round of funding was announced on April 20, you can find information on the funded projects here.
With the application closed for the CWCA, please look into the Small Business Administration's Economic Injury Disaster Loan program or the Paycheck Projection Program.
You can find the application for the Paycheck Protection Program here.
You can find the application for the COVID-19 Economic Injury Disaster Loan, here.
Press Releases:
Gov. Wolf: State Continues Phased Reopening with 16 More Counties Set to Go Green on June 5
May 29, 2020
With more than 80 percent of the state in some phase of reopening, Governor Tom Wolf today announced that 16 additional counties will take another step forward and move to green effective 12:01 a.m., June 5. Counties include Allegheny, Armstrong, Bedford, Blair, Butler, Cambria, Clinton, Fayette, Fulton, Greene, Indiana, Lycoming, Mercer, Somerset, Washington, and Westmoreland.
The first 18 counties moved to green today, including Bradford, Cameron, Centre, Clarion, Clearfield, Crawford, Elk, Forest, Jefferson, Lawrence, McKean, Montour, Potter, Snyder, Sullivan, Tioga, Venango and Warren.
Eight counties moved to yellow today, including Dauphin, Franklin, Huntingdon, Lebanon, Luzerne, Monroe, Pike, and Schuylkill.
You can read the full press release here.
Gov. Wolf Signs Budget to Sustain Education, Support Communities amid Pandemic
May 29, 2020
As Pennsylvania continues to address public health and safety amid the COVID-19 pandemic, Governor Tom Wolf today signed a state budget that will provide 12 months of sustained public education funding at 2019-20 levels and makes important investments in communities and programs to help begin to restore the economy.
The $25.75 billion General Fund budget in HB 2387 includes an additional $2.6 billion in federal funding provided through the Coronavirus Aid, Relief, and Economic Security Act, known as the CARES Act. The budget sustains funding at current year levels for Pre-K Counts and Head Start, basic and special education in K-12 schools, and higher education. The budget also provides $300 million from the CARES Act to make up for a decline in gaming revenue that annually supports school property tax relief for homeowners.
You can read the full press release here.
Wolf Administration: Manufacturing PA Innovation Program Awards More Than $2.8 Million to Advance Manufacturing Technology
May 29, 2020
Harrisburg, PA – Today, the Department of Community and Economic Development (DCED) announced the approval of more than $2.8 million in grants through the Manufacturing PA initiative. The 43 projects receiving funding will spur new technologies and processes in the manufacturing sector.
The approved projects are part of Manufacturing PA's fellowship program. The program unites the commonwealth's best and brightest graduate and undergraduate students with local manufacturers. Once paired, the students embark on research projects to develop new technologies and advance innovation statewide. Universities that have partnered with a manufacturer can apply for and receive between $25,000 and $70,000 in funding for specific student research projects.
View the complete list of 43 projects including funding amounts and manufacturing partners.
You can read the full press release here.
Yellow Phase Orders Updated to Include Eight Additional Counties Moving on May 29
May 28, 2020
Governor Tom Wolf and Secretary of Health Dr. Rachel Levine signed amended yellow phase orders to include eight counties moving to the yellow phase at 12:01 a.m. tomorrow, May 29. The counties include Dauphin, Franklin, Huntingdon, Lebanon, Luzerne, Monroe, Pike and Schuylkill.
The eight counties are joining 49 counties that previously moved into the yellow phase.
The Governor's amended order can be found here. The Secretary of Health's amended order can be found here.
You can read the full press release here.