Your Update for 5-22-20
*This information is changing quickly, so be sure to check for any updated information.
We will be adding our daily updates to our website a week after publication. If you would like to receive RPG's update as it comes out, please sign up here: eepurl.com/gKVAoP
Press Conference with Governor Wolf and Secretary Levine:
At 4:00 p.m. on May 22, Governor Wolf and Secretary Levine held a press conference to provide an update on COVID-19 and efforts to mitigate the virus in Pennsylvania. They also announce the additional counties moving to a different phase of the commonwealth's reopening plan.
Governor Wolf announced that an additional 8 counties will move into Phase Yellow on May 29. Afterwards, counties that remain in Phase Red will move to Phase Yellow on June 5. Lastly, the Governor announced that 17 counties will move into Phase Green on May 29.
The 8 counties moving to Phase Yellow on May 29 are: Dauphin, Franklin, Huntingdon, Lebanon, Luzerne, Monroe, Pike, and Schuylkill.
The counties moving to Phase Green on May 29 are: Bradford, Cameron, Clarion, Clearfield, Crawford, Elk, Forest, Jefferson, Lawrence, McKean, Montour, Potter, Snyder, Sullivan, Tioga, Venango and Warren.
Per Governor Wolf's announcement, in order for a county to move from Phase Yellow to Phase Green, it must remain in Phase Yellow for 14 days, and reduce the overall risk for its citizens. The guidelines for the movement can be found in the Governor's Plan for Pennsylvania.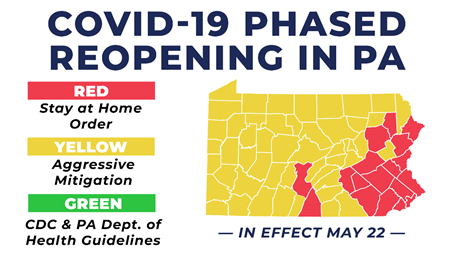 Secretary Levine gave an update on the number of cases of COVID-19 in the Commonwealth (+66,258), an increase of 866 cases. COVID-19 is in all of the Commonwealth's counties. There were 115 new deaths associated with COVID-19, bringing the total deaths in Pennsylvania to 4,984.
There are 14,291 residential cases and 2,377 employee cases in 578 long-term care facilities in 44 counties, which includes nursing facilities and personal care facilities. There have been 3,275 reported deaths in long term care facilities due to COVID-19. Deaths in nursing or personal care facilities account for ~66% of the total deaths in Pennsylvania.
According to the Hospital Preparedness Dashboard, 45% of hospital beds, 38% of ICU beds, and ~76% of ventilators in Pennsylvania Hospitals are still available. A total of 4,969 COVID-19 cases are in Healthcare workers.
As the Department of Health continues to reconcile the death records across the commonwealth, they will begin to post additional demographic information here. County-specific information and a statewide maps are available here. You can view the data on infections by COVID-19 in Pennsylvania here.
You can watch the daily press conference here.

Business Community:
Governor Wolf's Plan to Reopen Pennsylvania:
On April 22, Governor Wolf announced his plan to reopen Pennsylvania, focusing on a regional decision making approach. Along with the previous standards the Governor announced last week, he highlighted that the data-driven decision making process will be done in consultation with Carnegie Mellon University.
Their metrics will focus heavily on a regional approach that is built on a population based incidence rate of 50 new confirmed cases per 100,000 population reported to the department in the previous 14 days.
An example: An area with a population of 800,000 people would need to have fewer than 400 new confirmed cases reported in the past 14 days to meet the target.
The first regions that the administration will target are the north-central and the north-west regions of PA, with a goal of moving them from phase red to phase yellow on May 8.
The three color phases determine when regions are ready to begin easing restrictions on businesses, stay-at-home orders, large gatherings, child care and more. The three phases are red, yellow and green, with the entire state currently in the red phase. Movement between phases will be based on the population incidence rate above.
Red Phase:
The red phase singularly purpose is to minimize the spread of COVID-19 through strict social distancing, non-life sustaining business and school closures. There are currently 18 counties in Phase Red, however 8 more counties will move to Phase Yellow on May 29. Afterwards, the rest of the counties in the commonwealth will move to Phase Yellow on June 5.
Life Sustaining Businesses Only
Congregate Care and Prison Restrictions in Place
Schools (for in-person instruction) and Most Child Care Facilities Closed
Yellow Phase:
The stated purpose of the yellow phase is begin to power back up the economy, while maintaining social distancing while easing restrictions on certain businesses and travel. However, the Department of Health will maintain strict monitoring over public health data to contain COVID-19. Guidance for businesses in Counties in the Yellow Phase. There are currently 49 counties in Phase Yellow, however 8 additional counties will move to Phase Yellow on May 29.
Telework Must Continue Where Feasible
Businesses with In-Person Operations Must Follow Business and Building Safety Orders
Child Care Open with Worker and Building Safety Orders
Stay-at-Home Restrictions Lifted in Favor of Aggressive Mitigation
Large Gatherings Prohibited
In-Person Retail Allowable, Curbside and Delivery Preferable
Indoor Recreation, Health and Wellness Facilities (such as gyms, spas), and all Entertainment (such as casinos, theaters) Remain Closed
Restaurants and Bars Limited to Carry-Out and Delivery Only
Green Phase
The green phase should facilitate a return to a "new normal", by easing most restrictions on stay-at-home orders and business closures. Strict adherence to CDC and Health department guidelines are required, and similar to the yellow phase, monitoring of public health data will continue. There are currently 0 counties in Phase Green. There are currently 0 counties in Phase Green, however 17 counties will move to Phase Green on May 29.
All Businesses Must Follow CDC and PA Department of Health Guidelines
Aggressive Mitigation Orders Lifted
All Individuals Must Follow CDC and PA Department of Health Guidelines
The standards previously highlighted by Governor Wolf:
Our approach will be data driven and reliant upon quantifiable criteria to drive a targeted, evidence-based, regional approach to reopenings in Pennsylvania.
We will put forth guidance and recommendations for employers, individuals, and health care facilities for assured accountability as we reopen.
Reopening necessitates that adequate personal protective equipment and diagnostic testing are available.
Reopening requires a monitoring and surveillance program that allows the commonwealth to be deploy swift actions for containment or mitigation.
Protections for vulnerable populations must remain steadfast throughout the reopening process, such as limitations on visitors to congregate care facilities and prisons.
Limitations on large gatherings unrelated to occupations should remain in place for the duration of the reopening process.
Industry Guidance:
Critical Needs Portals:
The application for the COVID-19 Working Capital Access program is closed. The program reportedly received roughly 900 applications requesting roughly $75 million. The program's original appropriation was $60 million. A link to the DCED page can be found here. The first round of funding was announced on April 20, you can find information on the funded projects here.
With the application closed for the CWCA, please look into the Small Business Administration's Economic Injury Disaster Loan program or the Paycheck Projection Program.
You can find the application for the Paycheck Protection Program here.
You can find the application for the COVID-19 Economic Injury Disaster Loan, here.
Press Releases:
Gov. Wolf adds Eight Counties to Yellow and 17 to Green on May 29, Remainder to Yellow on June 5
May 22, 2020
Furthering his plan for reopening Pennsylvania, Governor Tom Wolf today announced eight additional counties will move to yellow and 17 to green, effective at 12:01 a.m., May 29. All remaining counties in red are expected to move to yellow by June 5 at 12:01 a.m.
The counties moving to yellow on May 29 include Dauphin, Franklin, Huntingdon, Lebanon, Luzerne, Monroe, Pike, and Schuylkill.
Gov. Wolf referred to a study by Drexel University that indicates that in Philadelphia alone, 60 days of staying at home resulted in more than 7,000 lives saved and prevented more than 68,000 people from needing hospitalization
Yellow Metrics
In deciding which counties to move to yellow, the state used risk-based metrics from Carnegie Mellon University combined with contact tracing and testing capability and a sustained reduction in COVID-19 hospitalizations. While the 50 new cases per 100,000 population was considered, it did not weigh any more heavily than other factors.
You can read the full press release here.
Gov. Wolf Modifies Executive Order on Foreclosure and Eviction Suspensions
May 22, 2020
Gov. Tom Wolf amended his executive order protecting Pennsylvanians from foreclosure and eviction to specify that the order only applies to evictions and foreclosures enacted due to lack of payment or because a tenant has overstayed a lease.
The executive order, signed by Gov. Wolf on May 7, 2020, suspends evictions and foreclosures until July 10, 2020. The Pennsylvania Supreme Court previously closed court eviction proceedings until May 11, 2020, due to the COVID-19 pandemic. During the suspensions, residents are required to continue making rent or mortgage payments or they may be subjected to past due balances and fees.
You can read the full press release here.
Pennsylvania's Unemployment Rate At 15.1 Percent in April
May 22, 2020
Harrisburg, PA – Today, the Pennsylvania Department of Labor & Industry (L&I) released its employment situation report for April 2020.The April unemployment and jobs surveys reflect the effects of business and school closures to mitigate the spread of coronavirus (COVID-19).
Pennsylvania's unemployment rate was up 9.3 percentage points over the month to 15.1 percent in April. The national rate rose 10.3 percentage points from March to 14.7 percent. The commonwealth's unemployment rate increased by 11.0 percentage points from April 2019 while the national rate was up 11.1 points over the year.
You can read the full press release here.
Department of Corrections Announces Demobilization Plans
May 22, 2020
Harrisburg, PA – Department of Corrections Sec. John Wetzel today announced that, beginning May 26, the DOC will begin the demobilization (or reopening) process for state prisons and will use a system of five levels that is guided by the governor's statewide reopening plans.
A detailed chart explaining the levels is available on the DOC's website.
Wetzel said the plan is consistent with Gov. Tom Wolf's reopening plan that consists of a phased approach that relies on safety and science. Specifically, as counties go from red, yellow, and green, prisons within those counties will be gradually increasing the "cohort size" or number of inmates allowed out at one time, and programs and religious services will slowly transition from cell based, back to an approach with smaller numbers to ensure social distancing.
Read the full press release here.
Yellow Phase Orders Updated to Include 12 Additional Counties Moving on May 22
May 21, 2020
The yellow phase orders were amended to include 12 counties moving to the yellow phase at 12:01 a.m. tomorrow, May 22. Those counties include Adams, Beaver, Carbon, Columbia, Cumberland, Juniata, Mifflin, Perry, Susquehanna, Wyoming, Wayne, and York.
The Governor's amended order can be found here.
The Secretary of Health's amended order can be found here.
You can read the full press release here.
Wolf Administration Announces Funding for Water and Sewage Improvements in Five Counties
May 22, 2020
Harrisburg, PA – Today, Department of Community and Economic Development (DCED) Secretary Dennis Davin announced more than $3 million in Community Development Block Grant (CDBG) funding to provide clean water and improve sewage for communities in Greene, Indiana, Luzerne, Mifflin, and Schuylkill counties.
The following projects were included in the most recent block of CDBG funding approvals:
$230,000 to be used in Indiana County to bring the water source into compliance with the federal Environmental Protection Agency's Safe Drinking Water Act regulations and to perform rehab work on the concrete spillway to remain in compliance with Pennsylvania Department of Environmental Protection's Dam Safety Division regulations.
$597,300 to be used in Schuylkill County for the relocation of the Celebration Creek stormwater line. Currently, the culvert and the stormwater line runs through a parking lot and directly under a pizza shop where it connects to the existing culvert under Kennedy Drive. (Rt. 309). The funding will relocate the Celebration Creek stormwater line from the pizza shop so that it will run under Sherman Street, turn southwest under the pizza shop parking lot, and connect to the line crossing Kennedy Drive (Rt. 309).
CDBG funds enable communities to effectively address local community development needs by providing federal funds to develop viable communities through the provision of modest housing and a suitable living environment. Funds are also used to expand economic opportunities geared to low-and moderate-income individuals and to improve infrastructure critical to community health and welfare.
You can review the full list of approved projects here.
Wolf Administration Releases Summer Camp and Recreation Guidance
May 22, 2020
With an understanding of the need for Pennsylvania families to secure child care options this summer, the Wolf Administration today issued frequently asked questions to provide guidance to parents, summer camp operators, public bathing places, part-day school-age programs, and other entities that provide necessary child care and enrichment and recreational activities for children and youth during the summer months.
The Pennsylvania Department of Health issued the FAQs that include guidance on:
The types of summer programs for children and youth permitted to operate during Gov. Wolf's phased-in reopening plan.
Additional requirements for summer programs operating in counties in yellow and green phases beyond what is required by the CDC guidance for youth programs and camps.
You can review the full press release and the FAQs here.