Your Update for 6-1-20
*This information is changing quickly, so be sure to check for any updated information.
We will be adding our daily updates to our website a week after publication. If you would like to receive RPG's update as it comes out, please sign up here: eepurl.com/gKVAoP
Press Conference with Governor Wolf:
Governor Wolf held a press conference at 5:25 pm in Philadelphia, briefly addressing the damage done to different parts of the city. He again expressed his disapproval of the violence.
As well, Governor Wolf announced that mail-in ballots will continue to be counted in six counties for seven days after Election Day. The six counties included in the Executive Order are: Allegheny, Dauphin, Delaware, Erie, Montgomery and Philadelphia.
Press Conference with Secretary Levine and Secretary Torres:
At 3:30 pm on June 1, Secretary Dr. Rachel Levine and Department of Aging Secretary Robert Torres held a press conference to provide an update on COVID-19 and outline ongoing guidance to long-term care facilities.
Secretary Torres outlined the efforts by the Department of Aging to safely reopen the operations of older adult services in counties that have, or are moving to the green phase. Ultimately, the procedures and best practices will be determined facility by facility to ensure safety and flexibility.
Secretary Levine gave an update on the number of cases of COVID-19 in the Commonwealth (+72,282), an increase of 356 cases. COVID-19 is in all of the Commonwealth's counties. There were 12 new deaths associated with COVID-19, bringing the total deaths in Pennsylvania to 5,567. There were 616 positive serology tests, which are counted as probable cases of COVID-19, and not confirmed cases.
There are 15,545 residential cases and 2,663 employee cases in 608 long-term care facilities in 44 counties, which includes nursing facilities and personal care facilities. There have been 3,557 reported deaths in long term care facilities due to COVID-19. Deaths in nursing and personal care facilities account for ~64% of the total deaths in Pennsylvania.
67% of individuals who have contracted COVID-19 in Pennsylvania have recovered.
According to the Hospital Preparedness Dashboard, 45% of hospital beds, 38% of ICU beds, and ~77% of ventilators in Pennsylvania Hospitals are still available. A total of 5,463 COVID-19 cases are in healthcare workers. County-specific information and a statewide map are available here. You can view the data on infections by COVID-19 in Pennsylvania here.
You can watch the daily press conference here.
An Update from DC:

Paycheck Protection Program

Senate Majority Leader Mitch McConnell says he expects the chamber will soon clear a House-passed bill that would relax several restrictions on companies that borrow money through the Paycheck Protection Program. The bill would extend the eight-week period when proceeds must be spent for loans to be forgiven to 24 weeks or until the end of the year, whichever comes first. Businesses would also have up to five years, instead of two years, to repay any money owed on a loan and could use a greater percentage of proceeds on rent and other approved non-payroll expenses.

"I hope and anticipate the Senate will soon take up and pass legislation that just passed the House by an overwhelming vote of 417-1 to further strengthen the Paycheck Protection Program so it continues working for small businesses that need our help," McConnell said on the Senate floor Monday.
It is not yet clear if all senators will agree to the bill without changes. Senate Small Business Chairman Marco Rubio said in a statement last week that some provisions in the House bill "could create an unintended disincentive to rehiring and create new and serious burdens for PPP borrowers in terms of forgiveness."

Should the Senate pass the House bill, it will go to President Trump for his signature. He has indicated that he is in favor of such changes.

COVID-19 Committee Schedule

The House and Senate are both holding a number of Committee hearings this week related to the coronavirus. See below for a fill list of COVID-19 related hearings.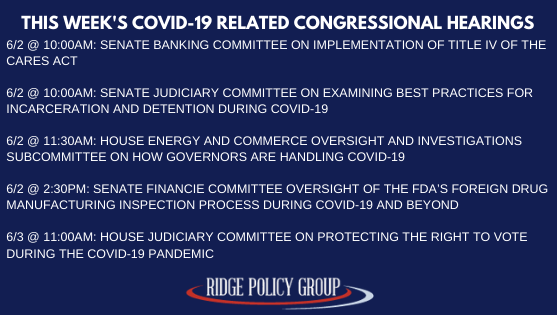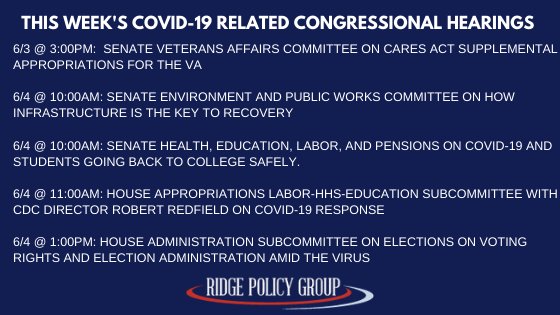 Appropriations Timeline Delayed Due to Pandemic

House appropriators will start their markup season in late June, about a month and a half later than usual, racing to get bills out of the committee in the middle of the summer under a condensed legislative schedule due to the coronavirus.

The House doesn't have any floor votes scheduled until June 30 under the House schedule we shared with you last week. Committees will work throughout the month, playing catch-up on the usual pieces of must-pass legislation, such as the annual defense authorization measure. Appropriators will begin "subcommittee and full-committee markups at the end of June and beginning of July," Hoyer said in a letter to members on Friday. At the end of June and throughout July, the House will consider appropriations, defense authorization, surface transportation, Affordable Care Act, and Water Resources Development Act legislation, Hoyer's letter said.

COVID-19 Economic Impact

The coronavirus is projected to reduce the U.S.'s cumulative nominal GDP by $15.7 trillion from 2020 to 2030, the Congressional Budget Office told lawmakers in a letter today. The virus's economic effects will continue to drag on productivity at least slightly into 2030, the office projects.

Separately, Office of the Comptroller of the Currency Brian Brooks warned that local governments that restrictions aimed at combating the spread of Covid-19 may be keeping community lenders from doing their part to spur economic recovery in a letter today to groups representing governors and mayors.

World Health Organization

President Donald Trump said the U.S. will end involvement with the World Health Organization after initially suspending payments to the group, blaming China's influence and disparities in international contributions. Trump said that while China pays $40 million per year to WHO, the U.S. contributes about $450 million.

World Health Organization Director-General Tedros Adhanom Ghebreyesus addressed Trump's announcement that he'll pull the U.S. from the WHO, thanking the
Business Community:
Governor Wolf's Plan to Reopen Pennsylvania:
On April 22, Governor Wolf announced his plan to reopen Pennsylvania, focusing on a regional decision making approach. Along with the previous standards the Governor announced last week, he highlighted that the data-driven decision making process will be done in consultation with Carnegie Mellon University.
You can review Governor Wolf's Plan for Pennsylvania here.
The three color phases determine when regions are ready to begin easing restrictions on businesses, stay-at-home orders, large gatherings, child care and more. The three phases are red, yellow and green, with the entire state currently in the red phase. Movement between phases will be based on the population incidence rate above.
Red Phase:
The red phase singularly purpose is to minimize the spread of COVID-19 through strict social distancing, non-life sustaining business and school closures. There are currently 10 counties in Phase Red. The rest of the Phase Red counties will move to Phase Yellow on June 5.
Life Sustaining Businesses Only
Congregate Care and Prison Restrictions in Place
Schools (for in-person instruction) and Most Child Care Facilities Closed
Yellow Phase:
The stated purpose of the yellow phase is begin to power back up the economy, while maintaining social distancing while easing restrictions on certain businesses and travel. However, the Department of Health will maintain strict monitoring over public health data to contain COVID-19. Guidance for businesses in Counties in the Yellow Phase. There are currently 40 counties in Phase Yellow, however 8 additional counties moved to Phase Yellow, while 17 counties moved to Phase Green on May 29
Telework Must Continue Where Feasible
Businesses with In-Person Operations Must Follow Business and Building Safety Orders
Child Care Open with Worker and Building Safety Orders
Stay-at-Home Restrictions Lifted in Favor of Aggressive Mitigation
Large Gatherings Prohibited
In-Person Retail Allowable, Curbside and Delivery Preferable
Indoor Recreation, Health and Wellness Facilities (such as gyms, spas), and all Entertainment (such as casinos, theaters) Remain Closed
Restaurants and Bars Limited to Carry-Out and Delivery Only
Green Phase
The green phase should facilitate a return to a "new normal", by easing most restrictions on stay-at-home orders and business closures. Strict adherence to CDC and Health department guidelines are required, and similar to the yellow phase, monitoring of public health data will continue. There are currently 17 counties in Phase Green. An additional 16 counties will move to Phase Green on June 5.
All Businesses Must Follow CDC and PA Department of Health Guidelines
Aggressive Mitigation Orders Lifted
All Individuals Must Follow CDC and PA Department of Health Guidelines
The standards previously highlighted by Governor Wolf:
Our approach will be data driven and reliant upon quantifiable criteria to drive a targeted, evidence-based, regional approach to reopenings in Pennsylvania.
We will put forth guidance and recommendations for employers, individuals, and health care facilities for assured accountability as we reopen.
Reopening necessitates that adequate personal protective equipment and diagnostic testing are available.
Reopening requires a monitoring and surveillance program that allows the commonwealth to be deploy swift actions for containment or mitigation.
Protections for vulnerable populations must remain steadfast throughout the reopening process, such as limitations on visitors to congregate care facilities and prisons.
Limitations on large gatherings unrelated to occupations should remain in place for the duration of the reopening process.
Industry Guidance:
Critical Needs Portals:
The application for the COVID-19 Working Capital Access program is closed. The program reportedly received roughly 900 applications requesting roughly $75 million. The program's original appropriation was $60 million. A link to the DCED page can be found here. The first round of funding was announced on April 20, you can find information on the funded projects here.
With the application closed for the CWCA, please look into the Small Business Administration's Economic Injury Disaster Loan program or the Paycheck Projection Program.
You can find the application for the Paycheck Protection Program here.
You can find the application for the COVID-19 Economic Injury Disaster Loan, here.
Press Releases:
Gov. Wolf Signs Executive Order Extending Mail Ballot Deadline in Six Counties to June 9
June 01, 2020
Amid a surge in mail-in ballots, the COVID-19 public health emergency and civil disturbances in six counties, Governor Tom Wolf today signed an executive order extending the deadline for county election offices in Allegheny, Dauphin, Delaware, Erie, Montgomery and Philadelphia counties to receive absentee or mail-in ballots by mail to 5 p.m. June 9, 2020. The ballot must be postmarked no later than Tuesday, June 2, 2020. The deadline to hand deliver absentee or mail-in ballots remains 8 p.m. June 2, 2020.
Mail-in ballots are new to Pennsylvania under Act 77 of 2019, which Gov. Wolf signed last year as part of the state's most sweeping election law improvements in 80 years. The law created the option of mail-in ballots with no excuse needed, along with later deadlines for voter registration and for returning mail-in and absentee ballots.
Nearly 1.8 million Pennsylvania voters have applied for a mail ballot since the onset of COVID-19.
Due to the COVID-19 crisis, in March the Pennsylvania General Assembly passed and Gov. Wolf signed Act 12 of 2020, which rescheduled the primary election from April 28, 2020, to June 2, 2020, to reduce crowding at polling places and encourage voters to use mail-in ballots.
The last time an executive order was utilized to extend the deadline to return absentee ballots was in 2012 due to Hurricane Sandy.
You can read the full press release here.
Departments of Health and Aging Highlight Efforts to Protect Seniors, Vulnerable Pennsylvanians
June 01, 2020
Harrisburg, PA – At today's daily COVID-19 press conference at the Pennsylvania Emergency Management Agency, Sec. of Health Dr. Rachel Levine and Sec. of Aging Robert Torres highlighted efforts to protect seniors and other vulnerable Pennsylvanians.
Force and, that's why we've enforced our existing policies," Dr. Levine said.
She advised that the majority of Pennsylvania's long-term care facilities are strictly following existing policies and have successfully prevented COVID-19 from becoming widespread, but in some facilities COVID-19 was harder to contain.
Whenever a long-term care facility in Pennsylvania reports just a single case of COVID-19, the Department of Health reaches out to conduct an assessment of the situation and offers a number of resources to the facility, as needed. Those resources could include having the facility work with ECRI, our infection control consultant, with our internal infection control teams, with the Patient Safety Authority, or deploying the Pennsylvania National Guard to assist with staffing.
Sec. Torres outlined the Department of Aging's work to prepare for safely reopening operations of older adult services located in counties that are moving into the Green Phase, as well as initiatives to combat social isolation among older adults during the COVID-19 pandemic and beyond.
You can read the full press release here.
Revenue Department Releases May 2020 Collections
​June 01, 2020
Harrisburg, PA — Pennsylvania collected $2.1 billion in General Fund revenue in May, which was $439.7 million, or 17.3 percent, less than anticipated, Revenue Secretary Dan Hassell reported today. Fiscal year-to-date General Fund collections total $29.6 billion, which is $2.6 billion, or 8.2 percent, below estimate.
The department estimates that approximately $199.8 million of the $439.7 million shortfall in May can be attributed to moving due dates for various taxes. The remaining $239.9 million of the May shortfall is due to reduced economic activity during the COVID-19 pandemic.
You can read the full overview of tax revenues here.
Wolf Administration to Distribute $80 Million in USDA Foods, Receives Extension of COVID-19 Disaster Food Distribution Extension
​June 01, 2020
Harrisburg, PA – Agriculture Secretary Russell Redding today announced that the Department of Agriculture has received approval to continue operating the Disaster Household Distribution program, through The Emergency Food Assistance Program (TEFAP), to provide food to Pennsylvanians adversely affected by COVID-19 mitigation efforts. Originally approved by the USDA on March 27, the Disaster Household Distribution program, set to expire the end of May, has been approved through June 25.
The waiver eliminates the need for individuals to verify financial eligibility upon arrival at a food bank or pantry. Those in need of food through June 25 simply need to show up and receive their food. In addition to removing barriers for Pennsylvanians to access food, the waiver allows the Department of Agriculture and its partners to distribute USDA Foods – including meats, vegetables, fruits, canned goods, cereal, rice, pasta, eggs, milk, and more – to those in need.
The department estimates that in 2020, the Bureau of Food Assistance will move more than $80 million of USDA foods through Pennsylvania's charitable food system in all 67 counties, with the state's allocation of TEFAP funding from USDA. In 2019, nearly $50 million was allocated to the purchase of USDA Foods. The additional allocation for 2020 comes through the Families First Coronavirus Response Act and the CARES Act, in addition to an increase in funding through continued trade mitigation efforts by USDA.
You can read the full press release here.
Department of Health Warns of Scam Targeting WIC Recipients
June 01, 2020
Harrisburg, PA – The Pennsylvania Department of Health today warned Pennsylvania's Special Supplemental Nutrition Program for Women, Infants and Children (WIC) participants of potential scams and cautioned them not to disclose their personal information without verifying the identity of the caller.
Although WIC clinics do perform eligibility determinations, they will never call participants to request their bank account information to deposit funds directly into their accounts.
If a WIC participant is unsure if a request for information is legitimate they should contact their local WIC office. Due to the COVID-19 pandemic, WIC services will be available over the phone or by virtual appointments until counties reopen into the green phase. Residents can find the address, hours of operation, and contact information for their local WIC clinic here.
Read the full press releases here.
This newsletter was prepared by Ridge Policy Group, a Top Government Affairs Firm.