As the 2020 election ramps up, voters tuned into the conventions nominating current President Donald Trump to be the Republican candidate and former Vice President Joe Biden to be the Democratic presidential nominee. With just around two months until the general election, the presidential candidates tried to make their case for why they should win your vote come election day. While the conventions looked different this year, as outlined by our partner Mark Holman, the candidates did what they could to bring their messages to the forefront.
Ridge Policy Group, our lobbying firm, monitored the conventions. In case you missed it, here's a recap.
Summary of Key Speakers at Democratic National Convention (DNC)
Second Lady Jill Biden's speech mentioned the hardships of COVID-19, saying "I know that if we entrust this nation to Joe, he will do for your family what he did for ours — bring us together and make us whole."
In addition, both President Barack Obama and First Lady Michelle Obama spoke. Secretary of State and last year's Democratic nominee Hilary Clinton also provided a recorded message.
Many of Biden's opponents in the Democratic primary spoke at the virtual convention, including Senators Elizabeth Warren, Bernie Sanders, and Cory Booker. Other current and former members of Congress spoke, including Rep. Gabbie Giffords and Senator Tammy Duckworth.
Current California Senator Kamala Harris accepted the vice presidential nomination. In her speech, she said, "we are a nation that is grieving — grieving the loss of life, the loss of jobs, the loss of opportunities, the loss of normalcy, and yes, the loss of certainty. We must elect a president who will bring something different and something better and do the important work. We must elect Joe Biden."
Summary of Joe Biden's Remarks
While not calling President Trump out directly, Joe Biden provided what he sees as a stark contrast from the current Administration.
He said "all elections are important. But we know in our bones this one is more consequential. America is at an inflection point. A time of real peril, but of extraordinary possibilities. We can choose the path of becoming angrier, less hopeful, and more divided. A path of shadow and suspicion. Or we can choose a different path, and together, take this chance to heal, to be reborn, to unite. A path of hope and light. This is a life-changing election that will determine America's future for a very long time. Character is on the ballot. Compassion is on the ballot. Decency, science, democracy. They are all on the ballot. Who we are as a nation. What we stand for. And, most importantly, who we want to be. That's all on the ballot. And the choice could not be clearer. No rhetoric is needed. Just judge this president on the facts."
Summary of Key Speakers at Republican National Convention (RNC)
First Lady Melania Trump acknowledged the hardship of the Coronavirus pandemic and provided a message of national unity. She said, "While at times we only see the worst of people and politics on the evening news, let's remember how we come together in the most difficult times."
Eric Trump, President Trump's son, also spoke. He said that Democrats want to "erase history" and "burn the Stars and Stripes that represent patriotism and the American dream."
Secretary of State Michael Pompeo delivered a speech while overseas, which caused some controversy as State Department's guidance prohibits political activity while on official travel. 
Several members of Congress and Republican candidates also spoke in support of President Trump, including Senator Ernst, Senator Tim Scott, Rep. Stefanik, and Burgess Owens, a candidate for Utah's fourth Congressional district.
Vice President Mike Pence discussed the importance of law enforcement during his acceptance speech at Fort McHenry in Baltimore.
President Trump's Remarks
President Trump spoke at every night of the Republican National Convention. Of particular note, his acceptance speech was 71 minutes, the second longest in history. Speaking from the South Lawn at the White House, President Donald J. Trump said of his opponent: "Joe Biden is not the savior of America's soul. He is the destroyer of America's jobs, and if given the chance, he will be the destroyer of America's greatness." Throughout his comments, he suggested that Democrats would eliminate criminal justice laws.
President Trump also posed a stark message of the Democratic platform, noting that "As long as I am president, I will defend the absolute right of every American citizen to live in security, dignity, and peace. If the Democrat Party wants to stand with anarchists, agitators, rioters, looters, and flag-burners, that is up to them, but I, as your president, will not be a part of it."
National Polls After Conventions
After the conventions, the polls indicated a slight increase in favor of President Trump. The results of a Morning Consult poll indicate this: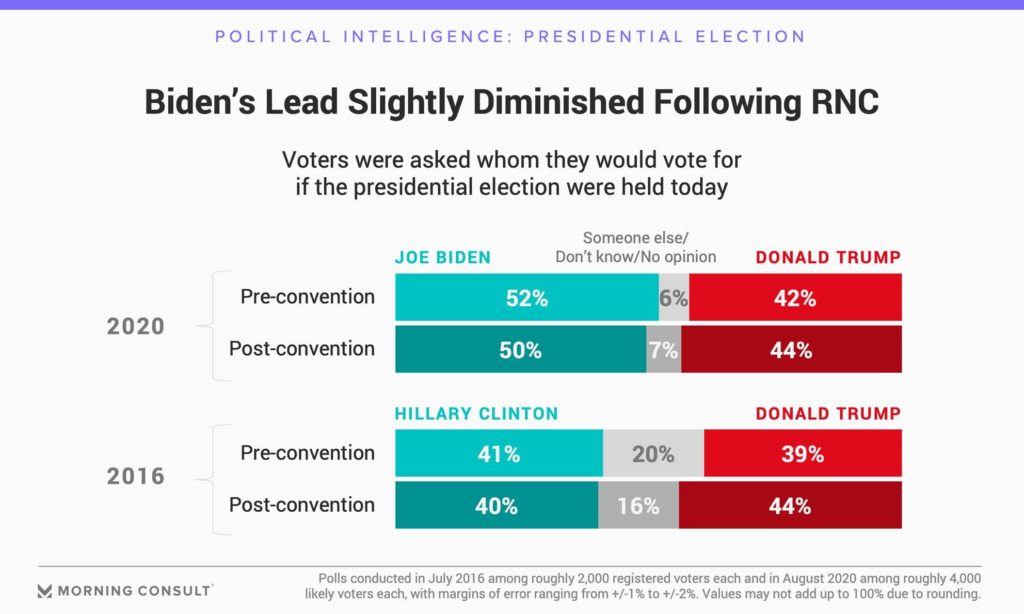 With two months until the election, it will be interesting to see how things change ahead of voting day. Ridge Policy Group, a top government affairs firm, will continue to monitor the election and provide updates.